IWADV Welcome
The Irish Wolfhound Association of the Delaware Valley was formed in August 1974 to do all possible to bring the natural qualities of this ancient breed to perfection, to guard against commercial exploitation of the breed, to protect and advance the interest of Irish Wolfhounds, to encourage sportsmanlike competition at dog shows and obedience trials, and to educate the public about the Irish Wolfhounds.
Upcoming events, news & web changes
Picnic and Meeting - Sept 12th. Information & directions here.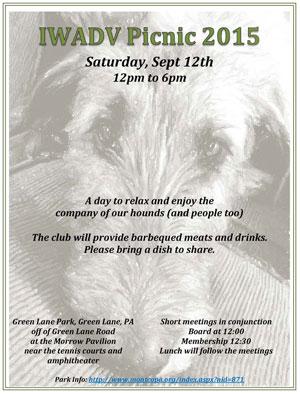 ---
Specialty Show
Information, Premium List and Forms are posted on the Specialty Page.